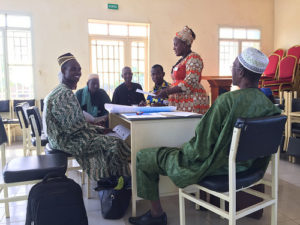 In many developing countries demand for animal-sourced food is likely to double as a result of increasing population and incomes. This is the case for Burkina Faso where, in common with other settings, this increased demand presents both an opportunity and a threat. It is an opportunity for livestock keepers in the area who can produce for an expanding market, increase their incomes and improve their livelihoods. But it is also a threat, because livestock production can have significant environmental impacts, for example the depletion of natural resources such as water, soil nutrients or biodiversity and increasing greenhouse gas emissions.
Exploring the trade-offs between income and environmental impacts in the changing livestock sector is the objective of the 'Research and Learning for Sustainable Intensification of Smallholder Livestock Value Chains' (ResLeSS) project, which is implemented by the Stockholm Environmental Institute and the International Livestock Research Institute (ILRI). This project is supported in Burkina Faso, Ethiopia and Tanzania through the Sustainable Agricultural Intensification Research and Learning in Africa (SAIRLA) program under the aegis of the UK Department for International Development.
In the context of this project, a participatory stakeholder workshop was held on 14-15 November 2017 in Bama, a mixed crop-livestock farming region 20 km north of Bobo-Dialassou, the 'economic capital' of Burkina Faso. The workshop brought together government representatives from all levels and from different ministries, experts, livestock keepers (both mixed crop-livestock smallholder farmers and pastoralists) and processors (butchers and dairy processors)
Participants were asked to play the 'Livestock transformation game', a board game that allows the players to negotiate a future livestock production scenario in terms of number of animals and production methods. The resulting scenario parameters are entered into an environmental simulation software (CLEANED-R) that computes the meat and milk production and the environmental impact of the negotiated scenario in terms of water use, soil nitrogen balance, greenhouse gas emissions and biodiversity impact. This provides an environmental 'scorecard' for the negotiated scenario with which the stakeholders evaluate whether the calculated production and impact is acceptable for them or not, in the context of existing and anticipated pressure on resources for example. Stakeholders then also evaluate the scenario along socio-economic indicators that were previously developed and agreed upon by the stakeholders themselves, using a socio-economic scorecard.
In a first stage, stakeholders developed a scenario with scorecards in interest groups (for example, a group made up of processors, or a group of pastoralists). In a second stage, these scenarios were renegotiated in mixed groups in which different stakeholders worked together to learn about the potential trade-offs and synergies across the value chain. A strong emphasis was put on giving everyone a voice in the negotiation of the scenarios to enable an equitable process.
In Bama, a conflict between smallholder mixed crop-livestock farmers and pastoral livestock keepers was at the core of the negotiation of the future scenarios. The smallholders were strongly in favour of intensifying production so that they could benefit from the (assumed) productivity gains, while the pastoralists were dedicated to maintaining a traditional extensive production system that fits best their transhumant lifestyle. The structured approach of the workshop enabled each group to negotiate and express their own interests before working together to explore their different understandings of livestock production. Here, the scorecards (from the CLEANED-R software and the socio-economic indicators) were pivotal, providing a focus for discussions and challenging assumptions. In this way, the workshop allowed what initially seemed to be two irreconcilable positions to move towards a set of principles that are agreeable to all. This is critical for a transformation of the livestock sector that will allow both livestock keeping systems to coexist.
Participant evaluation of the workshop has shown that using a computer-based simulation to compute the environmental impacts of livestock keeping is key to constructive negotiation on topics that are usually difficult to discuss. Also, stakeholders that over the past year were in open conflict with each other in various meetings, for the first time left the room with a common base to work from to transform their livestock keeping in ways that will enable the benefits of transformation in the area outweigh the losses. 
This blog was first published on the ILRI website: https://livestocksystems.ilri.org/2018/02/08/exploring-trade-offs-and-synergies-in-livestock-value-chain-transformation-in-burkina-faso/