Over the past 15 years, small holder farmers in the Mkushi district in North-Central Zambia have enjoyed steady rises in maize yields. Jeremy Haggar, SAIRLA's technical lead reports back on a visit to the area with research partner AFRINT IV to understand how.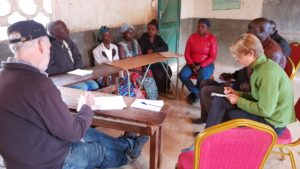 Mkushi district has been called the bread-basket of the country. The district sits on the divide between large-scale commercial farms established during colonial times, and traditional smallholder farming communities. The AFRINT IV – Policy for Equity in African Agriculture – project led by Lund University has been monitoring smallholder farmers in five villages in the District since 2002. One of the main findings is that maize yields have increased by 80 per cent over the past 15 years, showing a steady rise across that time. Although yields for women headed households were 17-18 per cent lower than for male headed households, they also experienced similar yield increases.
To understand what has contributed to increased productivity and how women have also participated the AFRINT partner at the University of Zambia, organized for SAIRLA to meet with a range of stakeholders from the District Agricultural Office (DAO), farming communities, women and youth groups, agricultural input suppliers and the Chief for the area. We learnt that the main support for agriculture, and in particular maize, comes from the government through the Farmer Input Support Programme and the Food Reserve Agency as a purchaser of maize, and government extension services supplemented by donor funded technical support through the Conservation Farming Unit. According to a DAO extensionist, roughly half the farmers in the District, about 17,000 in total, had access to subsidised inputs the previous year.
Despite this apparent progress  farmers are facing two major challenges. The Chief of one of the villages told us that the previous maize harvest had been poor; he estimated in some cases a quarter the production of previous years. This was due to poor rains at the start of the growing season leading to poor crop establishment. There was interest amongst farmers to diversify crops, perhaps returning to crops that were previously more common, such as cassava and sorghum, which are more climate change resilient. It appeared that one of the reasons for the growth in maize production was the government technical and input support focussed on maize. The other major challenge for farmers was access to markets. Farmers were dependent on buyers from or linked to the capital to purchase their products with limited processing of crops within the district.
Accessing government support
For farmers to apply for input subsidies they have to be members of a cooperative, women's club or youth club. Applications are collated and reviewed by what is called the Camp Agricultural Committee (CAC). In one community the committee consisted of 10 community representatives from different zones plus representatives of the Chief, district government, school and local NGOs. The CAC reviewed applications from 46 co-ops, 24 women's clubs and one youth club representing 2046 farmers. In the past the CAC would receive the subsidised fertiliser and distribute to the coops and clubs who in turn would distribute to the farmers. The previous year the system changed to farmers applying through their coops and clubs to receive individual e-vouchers. Farmers have to contribute 400 Kwacha in funds, while the government contributes 1700 Kwacha. The e-voucher acts as a pre-paid card which farmers  can take  to  suppliers to buy whatever kind of inputs they like. From our interviews in two communities and with agro-dealers it appears farmers have been taking advantage of this flexibility to purchase not only fertiliser, and maize and legume seed but also herbicide, pesticides, vegetable seed, implements and even chicks. This should allow farmers to tailor their investments to their own particular needs and interests, and it not limited to supporting maize production as subsidies were in the past. At the same time the prepayment of 400 Kwacha limits access by some – especially women who head their own households – and it is said some farmers sell off the inputs upon receiving them.
The role of conservation agriculture (CA) in increasing agricultural productivity 
In one community there was a lead farmer who promoted CA through establishing demonstration plots and using them to discuss the practices with other farmers. Conservation agriculture as practiced here focusses on two alternative soil preparation methods either use of a ox-drawn ripper that opens a single furrow into which the seeds are planted, or hand made basins that concentrate water into a smaller area where the crop seeds are planted. These practices are promoted as an alternative to ploughing, and are considered to better conserve the soil and particularly soil moisture, which should be important in drought years. Amongst the farmers who practice CA some considered the practice improved yields, while others thought only in some years. Most farmers spoken to only practiced CA on a part of their land. From further discussion it appeared that access to oxen was a challenge. An important  incentive for ripping was that thrice the area can be ripped as ploughed in one day. While, making hand-made basins was a lot of work and could only be done on a small area. Nevertheless, the main challenge of CA cited by the farmers was that weed growth was quicker after sowing, either resulting in more work hand weeding, or the need to apply herbicide. Several farmers mentioned purchasing herbicide either with their own funds, or with the e-voucher that could be used for any inputs. Indeed, one agro-dealer said he sold seven thousand litres of herbicide to farmers using the e-voucher. Thus, the flexibility of what inputs can be purchased with the e-voucher may enable farmers to purchase inputs needed for CA.
For the farmers of Mkushi to thrive, their capacity  to respond to changing climate and markets needs strengthening. The e-voucher allowing farmers to select those inputs which respond to their interests and needs may support this. Technical support should also enable farmers to assess the trade-offs between different cropping practices to conserve their soils, crops that are resilient to climate change and products to meet market demand.