If agricultural extension is to make a real difference for farmers, then responses and measurements of success need to go beyond simply trying to get them to adopt agricultural technology packages. SAIRLA's National Learning Alliance in Ethiopia, together with the MoA-Directorate of Extension and other partners, hosted a workshop to encourage stakeholders to understand the potential of using ICTs to share information on extension services and to recognise their essential roles in its delivery.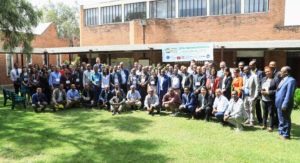 Effective agricultural extension and advisory services are key to enabling sustainable agricultural intensification (SAI). Ethiopia is one among few African countries where the government invests significantly in its extension system. For example, the National Extension Strategy, in its second pillar, identifies the importance of including ICT-led extension service delivery to enhance access to knowledge and information exchange and uptake among beneficiaries. As a result, over 17 million farmers are served by approximately 14,000 farmer training centres (FTCs) as well over 60,000 development agents nationwide. Yet despite this huge investment, there are still major capacity issues at extension and farmer levels.
Cognizant of this challenge, Makelle University, supported by SAIRLA,  is developing an approach which uses ICT applications in advisory services on sustainable agricultural intensification (SAI) to enable household specific targeting of advisory messages. Using this research as an entry point, the Ethiopian National Learning Alliance (NLA)  began to engage various actors in the agricultural sector with an interest in using ICT in the provision of agricultural support services to: identify existing tools and services; to avoid duplication of efforts and to develop solutions that will have a positive impact on smallholder farmers. One of the subsequent observations they made was a lack of understanding on who is doing what with regards to using ICT in the provision of agricultural support services in the country.
To help address this, the NLA co-hosted "Stakeholders dialogue and marketplace on "ICT in Agricultural Extension in Ethiopia"  in partnership with the MoA-Directorate of Extension, CASCAPE and Farm Radio International, who had previously held similar discussions. The objectives of the event were to:
Enhance stakeholders' understanding about current and potential ICT demand and solutions for agricultural extension services in Ethiopia.
Facilitate dialogue, joint learning, networking and collaboration around the use of ICT tools between ICT providers, users, policy makers and investors (taken forward through establishing a technical working group).
Generate inputs for the National Agricultural Extension Strategy ICT pillar implementation guidelines
The event, held at the International Livestock Research Institute (ILRI) on 11 April 2019, attracted over 80 participants ranging from decision makers at the Ministry of Agriculture to donors such as Bill and Melinda Gates Foundation (BMGF) and the World Bank, national and international NGOs, national and international agricultural researchers, private ICT solution providers, and media agencies.
Key lessons from the event
Post event, the NLA were able to reflect on the following:
Institutional embedding helps raise legitimacy of externally facilitated social learning: This event was planned as one of the NLA meetings. The difference this time was that the NLA facilitation team was able to effectively embed the activity within the interests of the Ministry of Agriculture, Extension Directorate taking advantage of the favourable circumstance and the synergy of objectives. As a result, the event attracted a wider range of actors and senior decision makers with similar interests.
Timing is important: The event organising committee were aware of an upcoming BMGF-supported project to digitise Ethiopia's advisory service and as a result, timed the event to inform BMGF investment and attract senior level BMGF decision makers. Informal discussions between the organising committee and BMGF officials indicated that the event improved their understanding of the range of ICT solution providers with the potential to contribute to their new initiative.
Social learning happens both at individual and organisational levels: One of the observations from the 'before the event' evaluation was that there were some individuals that had never met extensionists and some extensionists that had never met ICT providers. This kind of event helped participants from both sides of the fence to discover talents, become aware of existing solutions, engage and learn from each other and work together moving forward.
Change requires continuous engagement: One of the burning questions at the end of the workshop was, "Where do we go from here?" The answer is not an easy one. Further engagement requires a deliberate attempt to continue the joint work. The workshop participants gave the organising committee the responsibility to figure out how to sustain the engagement. The organising committee have since agreed to develop a terms of reference for a new working group to continue the stakeholder dialogue into the future. The event website will also be developed into an information hub on ICT for extension.